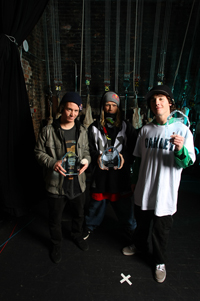 It was a packed house at Aspen's Wheeler Opera House on Friday night for the 11th annual
Powder Video Awards
, which rewards the best performances in ski films. A red carpet was rolled out for the occasion and the biggest names in freeskiing gathered under one roof.
Tom Wallisch and last year's pick Ingrid Backstrom won the 2011 Reader Poll, where fans vote online for their favorite skiers. Wallisch, who had a breakout year in 2009, is clearly the skier of the moment right now -- he also won
Freeskier
Magazine's 2010 Skier of the Year award. "I just can't believe I beat Seth Morrison," Wallisch said while accepting his award. "Seth has been my idol for years."
Morrison came in second in the men's Reader Poll, followed by Sage Cattabriga-Alosa, Erik Roner, Simon Dumont, Bobby Brown, Tanner Hall, Sean Pettit, Sammy Carlson and Jossi Wells. Hall, who's been out for over a season with injuries and whose film
Like a Lion
won Best Documentary, said, "I can't believe I still made the top 10 after being out for 18 months."
In the women's Reader Poll, after Backstrom came
2011 Winter X Superpipe
champ Sarah Burke (who wasn't there to accept her award because apparently she couldn't get into the over-packed theater; her husband, pro skier Rory Bushfield, accepted on her behalf). In third was
2011 Winter X Slopestyle
winner Kaya Turski, and other Winter X superstars Jen Hudak and Grete Eliassen in fourth and fifth, respectively. "I'm just honored to be on the same list with all these amazing girls," Backstrom said.
Matchstick Productions'
The Way I See It
won Movie of the Year. Cattabriga-Alosa won Best Male Performance and Best Natural Air for his segment in TGR's
Light the Wick
. "I'm totally surprised," Cattabriga-Alosa said, even though nobody in the audience was surprised to see him win. Eliassen won Best Female Performance for her film
Say My Name
. "I just want to see more women in ski films," Eliassen said on the stage. Level 1 athlete
Ahmet Dadali
won both The North Face Breakthrough Performer award and Best Jib.
When Ian McIntosh accepted his award for Best Line in TGR's
Light the Wick
, he gave a shout-out to the heroes the ski industry has lost in the recent past. "Shane McConkey, C.R. Johnson, Arne Backstrom, Jack Hannan," McIntosh said, "I ski for you."