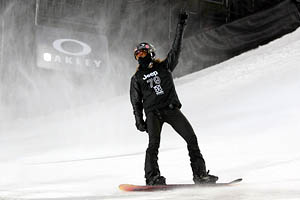 After his first run in Sunday night's Snowboard SuperPipe final, Shaun White found himself in an unusual position: second place. His Olympic podium mate, Scotty Lago, had just thrown a massive run that began with a cab double cork 1080 and set the height bar higher than anyone else in the field. White, the last rider to go due to his first-place qualifying position, landed near the flat bottom following his third-to-last hit and struggled through the final two hits of his run with diminished speed.
After failing to qualify for the Slopestyle final on Saturday in his return to that event after a year hiatus, it was starting to not look good for White
On his second run, Lago crashed, leaving a chance for White "I saw Lago destroying it and figured it was all or nothing at that point," White said. I knew I needed to stick the best run I had, and I went for it."
His second run began with a backside air nearly 20 feet out of the pipe and he built on it from there: double cork stalefish 1080 to cab double cork 1080 to front stalefish 5 to double McTwist 1260 to backside alley oop rodeo. (Wow that's a mouth full!)
This is the first time White has thrown the double McTwist (I have a sudden urge for a Big Mac, and a McFlurry) 1260 since his victory lap in the Olympics. The Olympics was the first place he'd thrown the double McTwist around from a 1080 to a 1260. The run earned him a 97.33 -- an identical score to his winning run last year and tied for the highest score in Winter X Games history.
Asked how it felt to be back on top after his Slopestyle style set back, White said, "I knew I wasn't holding the biggest cards, but after living and learning, I was so fired up coming into pipe. I did my thing, and it built me up again."