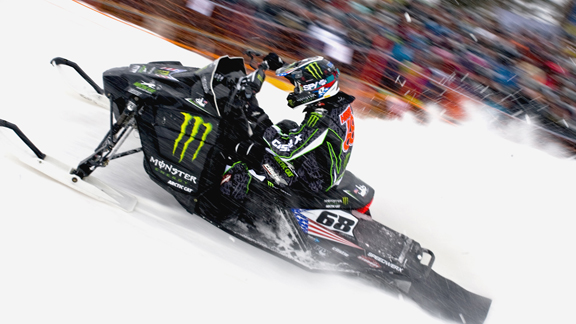 Tucker Hibbert racing at the 2010 FIM Snowcross World Championship in Sweden.
For the first time in his career, Tucker Hibbert is going for what could be called the grand slam of snowmobile racing: Winter X gold, two Amsoil Championship Snocross Series (ACSS) titles and next he plans on defending his FIM Snowcross World Championship title in Tuuri, Finland on March 26.
Hibbert, who won his sixth Winter X SnoCross gold in January, is currently leading both pro points series on the United States-based ACSS tour and is the favorite for another FIM title. At the 2010 World Snowcross Championship in Sweden, Hibbert became the first American to be crowned champion in the 11-year history of the event. "Last year in Sweden I was overwhelmed by the fans," Hibbert said. "They have a serious passion for riding and racing. The energy was contagious and really lit a fire in me for snowmobile racing. It was one of the most memorable races of my career."
In 2010, Hibbert finished 1-1-2 in a three-race format for the overall win. In Finland, the event will again feature three 15-minute races with an overall score determining the 2011 champion. European tracks are dramatically different from those in the U.S. and the FIM has sound and fuel restrictions and does not allow the use of traction products.
Hibbert has been test riding a specially equipped Arctic Cat Sno Pro 600. The Monster Energy/Arctic Cat crew recently put the final touches on the sled and have already shipped it to Finland. "I really enjoyed racing on the European-style track in Sweden and hope Finland's course will be similar. With the rough, long track and longer races it's more like motocross than American snocross. It really divides the riders and makes it exciting for the fans. At the 2010 World Championship, I was surprised to see riders from so many countries. I had no idea that Italians raced snowmobiles! I hope more countries get involved this year and support the event."
Riders from nine countries are expected to compete in the event, six days after Hibbert wraps up the ACSS tour in Lake Geneva, Wisc.