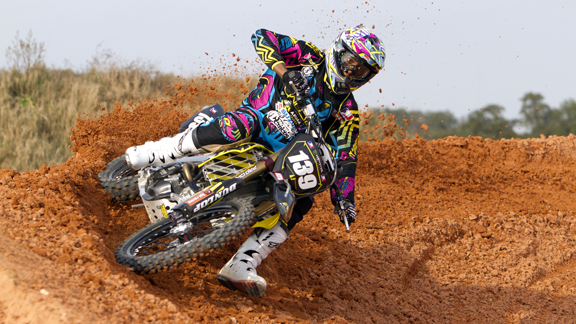 Malcom Stewart, younger brother to James, will make his Supercross Lites debut in Houston Saturday.
Malcolm Stewart said the only thing he ever wanted was to feel what it was like to be in a stadium and have thousands of people watching his every move. If satisfying a curiosity was all he wanted, he could have simply asked his brother -- himself no stranger to the spotlight -- how it felt. Instead, he decided to find out on his own.
This weekend, Malcolm, younger brother of two-time AMA Supercross champion James Stewart, will compete at the Houston Supercross in the Eastern regional opener of the SX Lites class. Growing up under the same roof as one of the most dynamic racers in history, Malcolm is aware that there will be comparisons. He knows people will say he's only there because of his brother. He doesn't care and he doesn't think about it. "I don't really have anything to prove to anyone," he said. "I'm just doing it for myself."
While his brother defends a five point lead over Ryan Villopoto in the Supercross class, Malcolm, 18, will open up his career on a number 139 Arma/Suzuki City backed RM-Z250. This is a major change of pace for a kid who, only a few years ago, had a goal of joining the Bassmaster tour instead of the AMA Supercross series. "I was all about fishing," he said. "That's all I wanted to do. I actually almost quit [racing] to become a professional fisherman but it wasn't going my way so I started taking my riding more seriously."
For now, Malcolm has hung up the fishing poles in favor of putting in time on the test track for his Houston debut, where his goal is to finish in the top five. Team Arma/Suzuki City Manager Michael Nasakaitis said he was initially interested in Malcolm's potential as a future champion, but after just weeks of testing, he said the younger Stewart has already exceeded the team's expectations, without having completed a race.
"He is very professional," Nasakaitis said of Malcolm. "His knowledge of the bike and being able to give feedback is unbelievable. It's obvious that Malcolm has an educated background in bikes."
Being part of the Stewart family has meant that Malcolm has also been a character on "Bubbas's World", a television program that is currently airing in its second season on Fuel TV and SPEED. He warns people who have formed their opinion of him strictly from watching television. "The TV show has always shown me clowning around so that's probably what a lot of people think of me already," he said.
There are benefits to being the brother of who Malcolm calls 'the best guy on the planet.' There is a lot of value in being able to sit at the dinner table of a guy who is now in his 10th season as a professional racer. "[James] told me to go out there and have fun and don't think about anything else. Don't worry about what people say. Just go out there and do my thing."
The Houston Supercross runs Saturday night at Reliant Stadium.