Warning - the word

Gnarly

will be used

excessively

in this blog segment: Mike Wilson creates a new reality show coming to a station near you! Squaw Valley, Calif.-based pro skier Mike Wilson, with the help of sponsors and partners, has raised and spent an estimated $1 million filming six episodes of what the 24-year-old calls an "action-sports-based-adventure-travel show." The pilot, now complete, will be shopped around major networks next week.

"I basically dreamed up a bunch of the gnarliest things in some of the most dangerous sports I could come up with," says Wilson, from his parents home in Squaw Valley, "and my friends and I set out to do them all." So far he and a revolving crew of action sports accomplices -- including Byron Wells and Jesse Hall -- have been heli-skiing, BASE-jumping, wing-suiting, snowmobiling, sky diving, snowboarding, rope swinging and zip-lining around the world.

Wilson's full-time partners on the project are Patrick Rivelli, owner of the website unofficialsquaw.com, and Johnny DeCesare, filmmaker and founder of action film company Poor Boyz Productions. Rivelli, who had the original idea for the show, has contributed capital -- as have a few of Wilson's skiing sponsors -- while DeCesare has contributed filmmaking know-how and equipment. Wilson, who is an executive producer and the show's de facto star, has been responsible for rounding up the talent, and creating the game plan, which amounts to "going to some of the most beautiful places in the world with incredible backdrops and stuff to do something crazy or gnarly."

"It's kind of like 'Nitro Circus'-style stunts," says Wilson, "but with a little less of the 'Jackass' pranks, a little more serious, a little more dangerous, a little gnarlier. Everything that we're doing can kill you in a hurry, if anything goes wrong." WOW...Sounds exciting!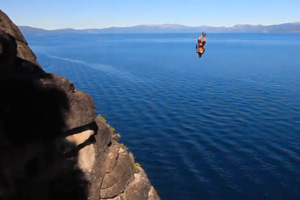 Screengrab

: courtesy Hula Networks Wilson hopes his footage will land him a spot on a network show.

The inaugural episode was shot early last January in Venezuela. Wilson and a few buddies BASE-jumped Angel Falls, which has the biggest vertical plunge of any waterfall on Earth. "Everything was super mellow until the day before we went down there," says Wilson, "and we realized how dangerous this trip could really be." Caracas, Venezuela, has some of the highest murder and kidnapping rates in the world. "They're not exactly fond of Americans, either, and we're flying down there to do something super, super illegal. It went really smoothly, except for the drive-by shooting." No one, Wilson says, was hurt.

They've filmed six episodes so far "I've got the next 18 episodes rigged out on my computer," says Wilson. "Where we want to go, what we want to do, who's gonna be involved, how much it'll cost. But first we need to sell the show." DeCesare, who's based in Los Angeles, plans to shop it around to networks imminently. Wilson is confident it will sell. "We think we're doing something that hasn't been done before on T.V., and people will want to see it."

Wilson has certainly found an audience for his rope-swinging videos seen on YouTube -- one of which involves a 115-foot multi-flip into Lake Tahoe --which he says are "pretty mellow and minimal" compared to what they've shot for the show. "It's the kind of stuff that you'd literally dream up and say, 'Wouldn't this be cool if...'"

"Getting Away With It" is a working title for the show. "That's kind of what my life has always been about," says Wilson, who survived a 600-foot fall when his parachute malfunctioned during a BASE jump this past year, and is currently working on perfecting the ski triple cork to reveal at a competition in 2011. "I push the limits in everything I do -- on a pair skis, on a snowboard, with a parachute. And I've been pretty lucky because I've gotten away with it all."